NBC's This Is Us left fans hanging with a heartbreaking fear of what the future holds. These enigmatic flash-forwards are far from comforting. We do know that there is some beef with the mystery person that we have yet to see. We anxiously await another mind-blowing twist when the series returns with this week's midseason premiere 'The Last Seven Weeks' on Tuesday at 9 p.m. EST.
We left off with Randall (Sterling K. Brown) and Beth's (Susan Kelechi Watson) relationship on the rocks. They had an understanding to put their marriage and each other above all else. For the first time, when Beth calls him out on it… Randall refuses to drop his candidacy. This is not how it is supposed to go!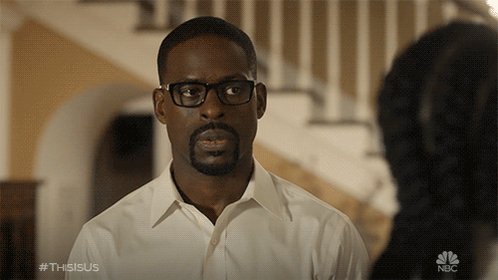 There are ups… and then there are downs. #ThisIsUs1,1823:15 PM – Dec 1, 2018193 people are talking about thisTwitter Ads info and privacy
Hopefully, the returning episode will comfort us with good news. NBC remains cagey, so this is all we know:
This Is Us s03e10 'The Last Seven Weeks': Randall's campaign comes to a close. Kevin meets someone from Zoe's past. Kate and Toby get ready for the baby.
Will Randall and Beth fall short of the #RelationshipGoals that were set by Jack (Milo Ventimiglia) and Rebecca (Mandy Moore)? Or is this just another challenge they can overcome together?
If Randall's campaign is wrapping up, will he change his mind and shift his focus onto his family? Or will he find another time-consuming way to serve the community and continue pushing Beth away?
Shifting our attention to the other Pearson siblings…
Kevin (Justin Hartley) and Zoe (Melanie Liburd) have made a breakthrough in their relationship. She shared a shocking secret with him, proving that she is all in. Quick refresher: while they are in Vietnam, Zoe's estranged father wants to meet with her. She painfully reveals that he abused her as a child, with his assault clearly influencing her tumultuous relationship with men. Knowing the truth, she has every reason to never see him again – but judging by this synopsis, it seems like she might meet with him after all.
In cheerful news – Toby (Chris Sullivan) and Kate (Chrissy Metz) prepare for their baby. *Squee!*  I'm going to ride this high and not dwell on the fact that future Toby seems sad and alone. We need to think happy thoughts until we know exactly what happens.
This Is Us airs Tuesdays at 9 p.m. on NBC.
---
Check out more of my Bleeding Cool articles HERE.
Follow all of my TV coverage HERE.